A personal take on the world of Sunn O)))
Identity, Intuition and Sunn O)))
Despite lots of musical factors, but it wasn't until the mid of the 2000s that we discovered them, Sunn O))). I believe it was a visual poster or a mention somewhere in a magazine or something, that caught the eyes.
The reason behind mentioning the visual part, is that this is how we got to recognize Sunn O))) at first – those robes and guitars carried like weapons/artefacts; a massively strong visual message, that pushed us to become eager to understand.
My personal intuition that there is something behind the existence of Sunn O))) was very strong; and hence, dug into their sound that I did not quite get at the beginning, at that time.
For in every time in our lives, we are different persons
This is what I believe in, so maybe the readiness to perceive Sunn's sound signature was not there at that the time listening to them took place. Nevertheless, this urge still lived in the back of the head, but understanding Sunn was not yet personally perceivable.
Wondering why; I would say that what you get used to, grows over you by habit and time. In other words, being a person who is into so many music genres where percussion mostly exist, it becomes tough to listen to something that does not use that, unless the specific sound is already identified as a musical direction which does not feature such percussive core; ie. ambient music and other types of sound.
A witness on Sunn O)))
Years go by, more doors and experiences open to new and old music that one might have missed paying attention to, and more video content exists everywhere with more and more video platforms emerging.
Speaking of that, I have always been an early follower of few video review figures whose talk makes sense to me in most times. I have been following The Needle Drop on YouTube since he started broadcasting his reviews of different types of music, and it was a surprise to bump into one of his reviews that content-wise stood out from the rest of his videos.
Why did it stand out? Well, because it was a review that held different energy, that even reflected on the title of his video calling it I saw Sunn O))) as well as his video set-up, being void of the usual graphic work he usually implements to his video reviews; the thing that might have signified that something urgent needed to be spoken out!
And, it was the case. Here below is the video review The Needle Drop did on attending Sunn O))). It is a bit over the ten minutes sign, and you do not have to go through all of it to get what I am talking about, but that is absolutely up to you, it is worth watching in full anyway.
The enthusiasm carried explaining the Sunn O))) live phenomena was undoubtedly enticing! An eye was left there, but that was not yet enough to take such a step, to just emotionlessly attend without first understanding more about the sound of Sunn O))).
Let's have another drink, shall we?
It seemed that the review spoke directly to me at one point, the thing that again pushed me even stronger to try to alter my expectedly habitual understanding, and to tackle the whole sound from a different perspective.
Few more attempts took place, and surrendering to sound has been voluntarily adopted. It always depends on one's awareness and attention levels that enable a full surrender to an experience without labelling it based on background experiences or expectations; and that in itself is a tough job!
Anyhow, more and more plays during different times of the day, different albums, and conditions took place. Alongside this audio journey, it seemed that Sunn O))) is one of these musical experiences that you need to approach in a Live setting at least so it seemed for me, in order to grasp the bigger meaning. This can be massively different from a person to another, but it was the hidden hunch in my case.
The sound became a bit more comfortable by time, and acceptance to what is was the entrance door to begin to understand the whole atmosphere.
When life throws the curveball
It was probably a bit before the summer of 2019, when I was on my way home from work, sitting on the train and brainlessly scrolling through Facebook's feed, to bump into a post by a dear friend of mine showing that he has clicked interested on an event post of Facebook.
And guess what?
Yes! It was a Facebook event for Sunn's performance in Stockholm, Sweden in October 2019!
I messaged him straight away and asked if he intends to attend for real, and he made it clear that it was on his mind, and that he was yet uncertain. I expressed my excitement that I would love to attend and that I will buy my ticket in all cases – for whatever reason it felt like it is now or never!
A few days later, my friend sends me that he as well bought his ticket, now it is decided; experiencing the beingness with Sunn on stage is a certain happening! I will understand more, and land where I should.
The time has come
The day is here, it was the 19th of October, 2019, the day we will see Sunn O))). My friend and I had some drinks and something to eat and started commuting towards the happening.
It was not my first ever concert to attend in life, and I so much believed that earplugs are not a necessity in most concerts; but we happened to stop by a pharmacy to buy earplugs – a remarkably excellent suggestion by my friend, which I supported based on the massive sound we are expecting to meet with face-to-face later that evening.
Surprise Surprise!
I did not pay attention to who was performing as an opening act for Sunn O))), although I have thoroughly read through the Facebook event, it seemed like I still either missed it, or it was added later on.
Anyway, my friend and I took the subway to the station that sits beside the event hall, and once we left the train and started approaching the location, there was this weird vibratory buzz that one as a human being does not know exactly how to describe it but all I can say is that it was as low as one can probably realize as sound, and possibly as thick as the sound of a reactor!
We approached further, queue, chit chat, and entrance; and here we are right in front of the source of this strange sound and vibration.
I could not recognize who that 60+ grey-haired guy sitting in front of a huge table board of plugs and wires was. My friend whispered to me saying it was Carl Michael von Hausswolff – a well-known composer who is continuously investigating electricity, frequency, architectural space, and paranormal electronic interference.
A very interesting and unique sound experience carried us through Carl Michael von Hausswolff's performance!
The occurrence of Sunn
Amplifiers are lining up on the stage, a colossal line-up of amplifiers carrying the Sunn O))) logo standing like an army of heavy artillery that is ready to generate a universal vibration that will just pierce through us, I supposed.
Fog, lots of it. I remembered The Needle Drop video when it was mentioned that fog was extremely thick during the whole concert and that one of the major benefits is that it actually kept the audience hydrated to stand the long performance.
The first notes hit the amplifiers, among a vast cloud of coloured fog that made it impossible to see Sunn members on the stage, still the note resonated in the very cell of my physique.
At one point it felt like the whole place was shaking with vibration emitted, massive sound reflection. It was not only the concrete that was absorbing the vibrations but our very own being.
After a while of being exposed to this unprecedented sound experience, I could feel the vibration taking over all of me, to the extent that I could feel the waves penetrating my vocal cords and my chest where I could not feel my heartbeat any longer.
As far as I recall, there was no rest time, or there might have been but for a short time. That is not the point, the point is like I have mentioned earlier that despite the musical background that I carry, and so on; I have never seen a strikingly beautiful bass guitar like the one Sunn bassist was carrying. Now, let's divert a bit here and get back again.
Those Robes
Robes that were worn by Sunn O))) members are also as special as they are, inside out. They do not seem to be as ordinary as a performance gown, but there was also something about them.
After digging further, later on, it seemed that how we thought of those robes was actually not far from the truth behind them.
Asking how?
Here it is revealed! Apparently, these beautiful dark robes have been designed by an American-now-London-based fashion designer called Alexandra Groover.
She is a young fashion designer that has had many collaborations with film actors, musicians and more throughout her years of work.
Alexandra stated the following, and we are quoting what was officially written regarding her work with Sunn O))):
Alexandra Groover collaborated with Stephen O'Malley and Sunn O))) to create robes that reflected each band member's individual personality as well as each member's specific needs and movements while performing on stage. Launched during the European part of their "Monoliths and Dimensions" tour, this is an ongoing project.
Travis Bean 4000 Wedge Bass Guitar
Probably by the end of the performance, and I am not just fast-forwarding here; we will get back to the event in a while, but I saw a girl approaching the stage and asking Sunn's bassist about the killing machine he was holding in his hand. It looked like a dark black coffin that took the shape of a bass guitar.
Days after the event, I decided to fetch what type of bass guitar that was, and it took me weeks of posting on Sunn O))) groups and asking devotees about the mysterious bass I have seen that day.
After digging the ground to find oil, I landed on a few possibilities as the bass had a few versions that in a way looked similar.
It was the Travis Bean 4000 Wedge Bass, a 1976 model that has certainly been discontinued. An image below shows it, the first bass to the left.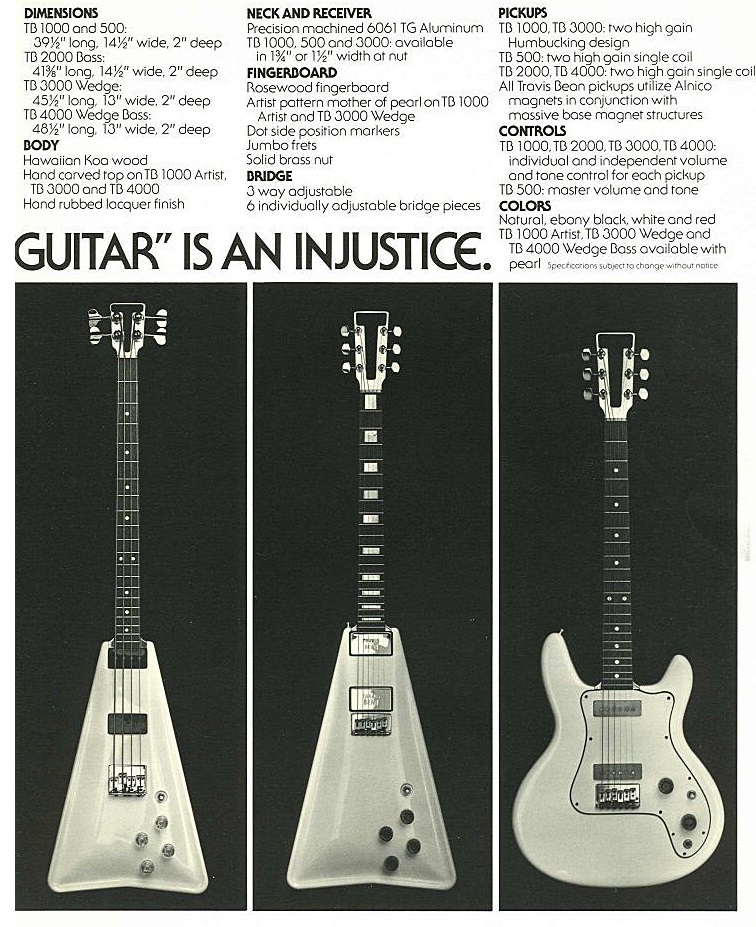 Curios enough, I looked for any contact for Travis Bean, and finally found one. Although Travis Bean is originally American and hails from California, it seems that they have seized activity since ages, to now find them located in Germany, weird eh?
Just to be fair here, I might be lacking any additional information about the American Travis Bean company and history here, but aside from that, I managed to call them in Germany to ask about that specific piece I saw on Sunn's bassist.
Warmly welcomed, I realized, of course, that the company only does custom orders and there is no line of production for a long time. Still curious, and after a few emails back and forth, I found out that to obtain the same exact Travis Bean 4000 Wedge Bass would possibly cost around 7000 Euros!
Happy with acquiring the info, I retreated back to my Sunn cave.
Ever Breathe A Frequency?
The reason why this headline is capitalized is that it is originally a Sunn O))) slogan that was witnessed on some of their posters and merchandise.
Now, back to experiencing Sunn O))) on stage!
The meditative state you end up carrying in your being stays with you for some time, apparently.
What is very interesting is, that this same meditative feeling reminded me of my first meditative experience that I had more than ten years back during a meditation session that I had, led by an Indian guru – that exact feeling when your inner self rocks like a boat sailing in a calm sea.
If you are into meditation, you will understand what I just described. Actually, in many cases, this inner rocking action reflects on your outside physique, and at one point you might be able to closely see that people's bodies are also rocking softly and involuntarily during a meditative state – that was precisely the case during Sunn O)))'s performance.
This was extremely visible on most of the event attendees, where eyes were closed, bodies rocking softly with meditative energies bursting inside, and physical balance is hard to attain!
Apart from that meditative experience, the warm scene of Sunn O))) members humbly thanking the audience, with that inner peacefulness that reflects throughout their smallest of gestures, gives you that serenity of oneness that naturally comes from them.
With ears whistling for a few days although protected by earplugs, an overwhelming feeling of peacefulness takes over. This experience has been like no other in life, whether you are a sound freak, a spiritual seeker or an only-music-concerts goer; that was certainly considered as a very different life experience.
Now let's quickly touch a related subject that might appeal to guitar or bass players here, that are fans of the Sunn O))) sound.
The Life Pedal
That feeling of joy and at the same time guilt for paying a huge sum of money to acquire the Sunn Life Pedal, is just inexplicable.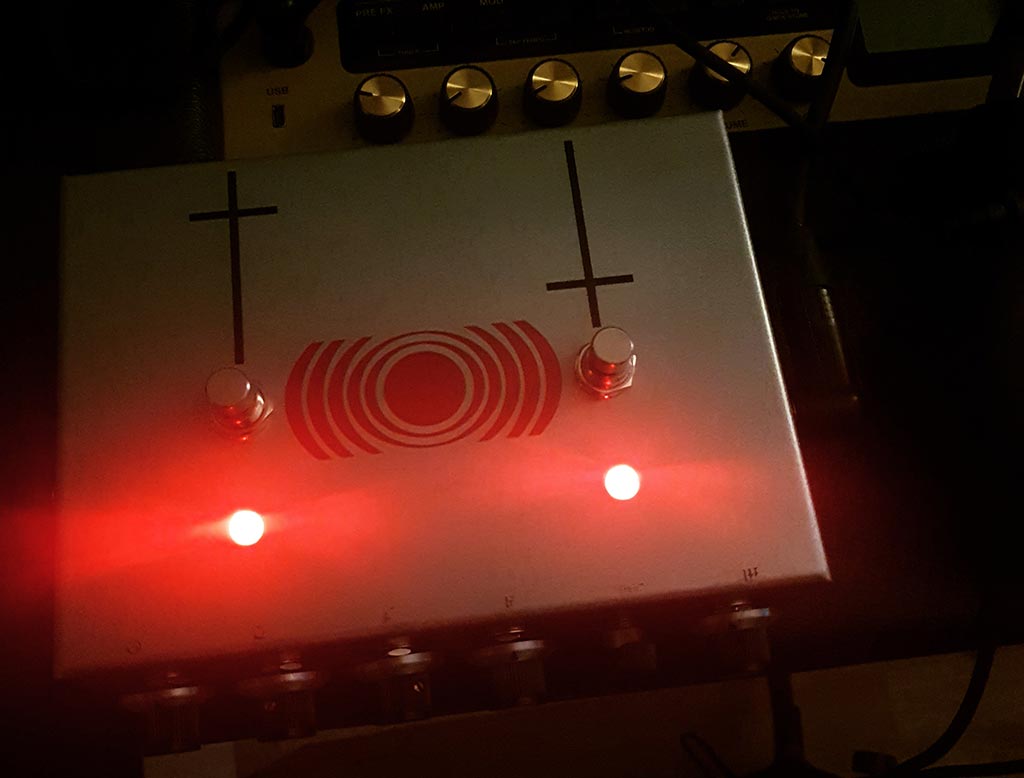 Sunn O))) have released three batches from their highly-desired-by-many Life Pedal, last of which was the silver batch. Apparently also, Sunn O))) has also been part of the later-on release again in cooperation with Earthquaker Devices to launch the compact and pedal-board friendly version of the Life Pedal.
The pedal sounds great, but it depends on your instrument tuning, certainly aside from the proper knob settings. During an interview that was conducted with Sunn's Stepehen O'Malley, he stated that guitar tuning that Sunn adopts is an "A" tuning – bearing in mind that he also uses baritone guitars, most of the time.
Aside from the technicalities, we have tested the pedal, dropped our passive-pickup ESP guitar to "D" tuning, and it sounds absolutely beautiful!
You will certainly need more than a tuning and a pedal to sound close to Sunn O))), but in general, the pedal's sound is rich, warm and big!
IIIVIIVIII Recreates Sunn Model T
Why not learn all about tube amps and make my own Model T?
This is exactly what the founder of the new IIIVIIVIII amplifiers told us, when we asked him how on earth did the idea of recreating SUNN Model T amplifiers come up?
Now how cool is that?!
The founder of IIIVIIVIII continues saying:
"We all know how hyped the Sunn Model T is. It's a 150W all tube amp with tons of low end and punch. It was made between the years 1973 – 1978 in Portland, Oregon. Used in many sludge, doom and hardcore bands. In Europe, this jewel is very hard to get. I was looking for one too. Few years and no money led me into crazy thinking: "Why not learn all about tube amps and make my own Model T?!".
"I started my research in the late 2017 where I knew nothing about capacitors and resistors, not to mention the operation of tubes and transformers. I read a lot about tube and radio related books and PDFs, and I watched many videos about the amplifiers and design. It was very hard in the beginning because I was overwhelmed by new words, graphs and equations. Doing that almost every day for two years I slowly started to get the big picture".
"Finally, I learned how to read the schematics and I bought some inexpensive parts to make my first prototype. And it took me like four chassis with parts, all soldered and wired in a "trash can". There was always a problem with noise, oscillations etc. So, I went back to books and my notes. It was two years ago and now I think I know enough to bring back the Model T design to life".
"I've invested most of my money in new, high quality parts. Some of them are custom made for me. I've spend hundreds of hours in CAD programs, DIYLC etc. capturing and tweaking every aspect of my model T. Everything has to be as close to the original design as possible. I'm a little bit OCD myself and I love symmetry, right angles and order of things. So, I've made tens of images of original Sunn Model Ts and took them to my CAD and Vector programs. You can find the results of my three years of research on my Facebook page.
"I'm really close to start the production. Sadly, parts I need are scattered all over the world so I am constantly waiting for packages. But this is my approach, and I put a lot of heart and soul into it. I love the Model T and I want everyone to be able to try one soon for himself or herself".
So now that we have highlighted this treasure for you, go ahead and check IIIVIIVIII's page on Facebook, follow it and keep an eye on what is going on!
From our side, we will certainly purchase one of these beautiful pieces, created after Model T Sunn soon, the one and only IIIVIIVIII!
Did we interview Sunn?
I have talked to Sunn, in order to talk to them more about themselves, as individuals behind this universal experience and sound; but they are avoiding any written interviews for the time being.
Luckily, we were able to talk to Anne Weckström, who is the band's light and fog designer! You can find the interview here.
Does it feel the same as before?
After what we have just mentioned above, do you think it feels the same now to sit and listen to Sunn O))) as compared to the start of this experience?
Certainly not, and it is just weird, because now we can feel every note being struck, every vibration that can virtually pierce through our cosmic entities, and moreover understand and appreciate the sound of Sunn O))) like never before.
It is exactly that, this frequency eventually becomes a part of you, if you allow yourself to become one with it, which it originally is.
Closure
We apologize for making this blog post that long for you, we are all busy and life is just distracting us all the time with both significant and silly stuff – but we appreciate so much that you have reached this closure.
I really hope you found this an interesting piece that is perhaps not only exciting but more importantly a useful reflection of how we perceived such a lifetime experience.
And for an absolute final part of this closure, have a listen below to the Sunn O))) close-to-closure performance in Stockholm, Sweden, on that day, the 17th of October, 2019.
Thank you for reading.