A story of musical evolution on an unmatched scale
For The Love of Ulver
Ulver came out at the time everything related to black metal as a heavy metal sub-genre was boiling in Norway. I remember when I bought their first album which was released in 1995 under the title Bergtatt; and upon listening to them, found them very different from what was going on at that time.
Putting the band and the album aside did not prevent me from keeping an eye on them. Later on, I recall I bumped into their 1996 album titled Kveldssanger; which also was a bit of a surprise.
Still very different; Ulver stayed on my watch-list as I tried to understand their musical approach every once and a while; my intuition provoked me to keep them not from a very far distance from my ears.
Time passed, and another attempt to approach Ulver again resulted in another surprise throughout their 2000 release titled Perdition City. There I stopped to try to figure out where exactly is all of this coming from, and how does Ulver manage to shift their musical approach like that in a time span of five years, roughly speaking.
Perdition City stayed with me for sometime, listening to it more frequently and bouncing back to older releases to try to understand the story of Ulver.
I believe that at one point, Ulver represented a rebellion to sound to me — at least this is how I saw it at that time.
Blood Inside album came out in the year 2005 with a video for the song It Is Not Sound, and there again Ulver proved to me that their message or musical direction stands above any familiar or common musical approach.
Moreover, more and more progression is taking place with Ulver's Shadows of The Sun release that featured a stunning album name and cover — where the song Eos hit a very deep spot for whatever reason.
It literally took years and years to understand Ulver and to admit that this is sound that departed the way masses marched long ago.
Change in the weight of song names, album titles and sound approach was a constant process that reflected a massive internal shift all way through Ulver's life.
Messe I.X–VI.X album releases in the year 2013 was another beautiful peace, with the song Son of Man ringing its bells inside of my being, shaking it and bringing it to the Ulver presence.
That was followed by the 2017 release titled The Assassination of Julius Caesar that is characterized by a strikingly beautiful cover-art and tunes — where the song So Falls The World is a personal favourite.
Nevertheless, the gigantic media bang once Ulver released their 2020 album titled Flowers of Evil shined the light on a new sound experience that was taken by the storm by reviewers, webzines and more — again, an absolutely magnificent release.
Last but not least, let us not forget the stunning performance at The Norwegian Opera in the year 2010, directed by Erlend Gjertsen who works as a producer for the Norwegian Gyro AS agency.
Let me just put it this way, I consider Ulver and their music; the Ulver genre – an entity that reflects what we as human beings are capable of in terms of the development of consciousness that manifests itself in the form of constantly changing conscious art.
That section was not about the Ulver albums ranked but was an overview.
The Big Bang
And, the day came, when I saw a post by the British publishing house Cult Never Dies owned by the well-known journalist Dayal Patterson announcing pre-orders for Wolves Evolve: The Ulver Story — for me to grab my wallet, type in my details and to click order with a big fat smile and a child's joy being alive to witness this historical moment, where maybe, I get to understand how all this fantastic and most probably one-of-a-kind journey took place.
The probability that the Wolves Evolve: The Ulver Story book would personally give me an insight into the consciousness and mindset of Ulver was something I was so eager to understand.
Wolves Evolve: The Ulver Story Book
Production
So, who on earth managed to produce this must-be-a-piece-of-art book?
The answer is the British House of Mythology Publishing House and Label which specializes in experimental music, electronic rock, avant-garde and more.
The House of Mythology described their approach through the following words:
We put much care into the written presentation of each release, as we believe it is important to provide substantial context in this era of instant superficial gratification. We hope to make it clear that each of our releases is the result of a long strenuous process, personally and artistically, that our albums ultimately 'tell a story' and feels like 'more than music'. Music and myth are two sides of the same coin – hence the name.

House of Mythology
Distribution
You have certainly guessed it right; Cult Never Dies distributed the Wolves Evolve: The Ulver Story, and that is where I saw it for the first time.
It did not amaze me, as I always knew that Cult Never Dies are just hands-on always on fire to deliver the most unique sought publications.
Editorial
But who did the thick editorial work? This has to be a very intense and effortful task to put in a book that comprises 336 pages where the conversation with the band occupying 150 pages, right?
True that, and the answer is Tore Engelsen Espedal who has conducted and framed the conversations alongside textual detours by Nile Bowie, Phil Alexander and Torolf Kroglund, in addition to a heap of photographs from Ulver's private archives and others.
The way the conversations were put together, alongside the mindful flow of discussions continuously grabs the reader's attention, only letting it go when the page that follows is an image.
Everything is in sequence, the choice of words is almost perfect and the easiness of absorbing it all makes it a fully entertaining journey to the mind and soul.
Design
+wolframgrafik aka Paschalis Zervas is a graphic design house/agency/person who has a great share in working for big names in addition to designing the Wolves Evolve: The Ulver Story book art.
For instance, Paschalis has done work for artists such as Hypnopazūzu, labels such as Austrian Trost Records, Universal Music France among others.
+wolframgrafik is an interesting name for a design entity, and here is what it means: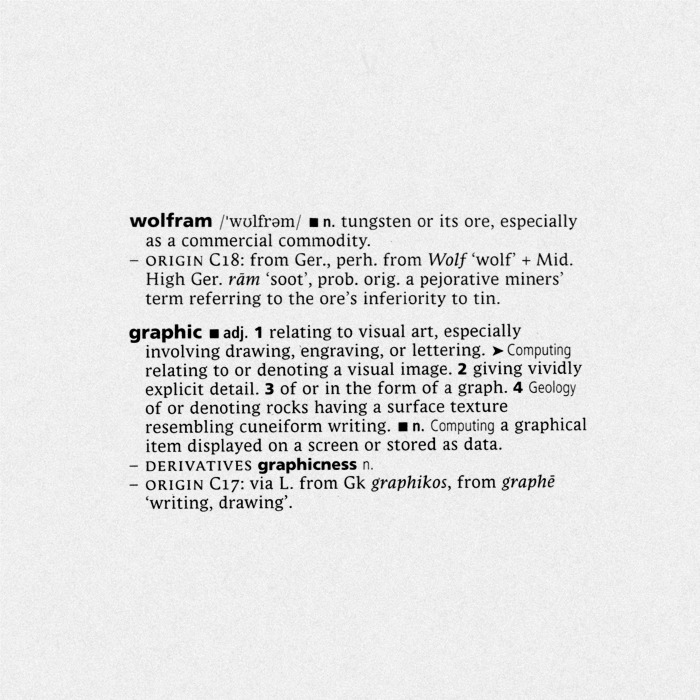 The graphic design work done on the Wolves Evolve: The Ulver Story stands out with the choice of the colour palette and typography. The graphic art is minimalistic, bold and intensely beautiful!
Content
It seems that Ulver has been considering doing this book a long time ago, but it has been always postponed; so says Ulver — but seems the time has come for it after more than 25 years since the birth of the wolves.
The book features 9 sections that are head-titled using clear reflective state terms: such as Pathfinding, Shapeshifting, Hiding, Straying and more. There are also three Detour parts that exist between some sections.
It also contains an Appendix titled The Ceasarean Circus featuring a massive load of rare images from the pages 285 to 330 (you can do the math).
In very simple words, aside from the fascinating truths revealed in the Wolves Evolve: The Ulver Story book, the book is a continuous dialogue that sincerely walks the reader through a magnificent journey right from the source.
If all of this has not been enough to raise your ultimate curiousity about the story of Ulver; then perhaps this coming section would!
Goodreads
At the time of writing this blog post, Wolves Evolve: The Ulver Story book readers gave the book an accumulated rating of 4.46 throughout 54 ratings and four reviews on the popular Goodreads portal.

Closure
To sum it all, if you are interested in familiarizing yourself with a different type of art that holds within itself the micro consciousness of the universal macro consciousness; then you should possibly study this beautiful human art experience represented in just one word; Ulver.
You can purchase the book via the following links:
House of Mythology
Cult Never Dies